Buy 1998-2001 Dodge Ram 1500 aftermarket Replacement Instrument Cluster Bezel – 2002 Ram 2500 3500
The original OEM Bezel for the 98-01 Dodge Ram 1500 and 98-02  Dodge Ram 2500 3500's that was installed on these trucks in the factory, has been known to crack.
Getting the bezel replaced with a quality aftermarket Bezel will help you to avoid getting another Bezel that could crack again.  If you buy an original new bezel (for example at the Dodge dealer) made from the same material as your original bezel, or a used original bezel, OEM (Original Equipment Manufacturer), it can crack!  Mopar brand parts are parts from Chrysler (Mopar is an organization in Chrysler group), and are OEM (Original Equipment Manufacturer) parts, and therefore if they are using the same material as in the original bezel, then their bezel can crack.
You can buy a quality aftermarket bezel for your 98-01 Dodge Ram 1500 pickup, or 98-02 Dodge Ram 2500 or 3500 pickup: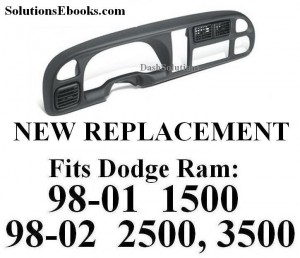 Buy 1998-2001 Dodge Ram 1500 aftermarket Replacement Instrument Cluster Bezel with Vents – 2002 Ram 2500 3500
Subscribe to Solutions for Dash free newsletter – Get updates, "on sale"/discounts info