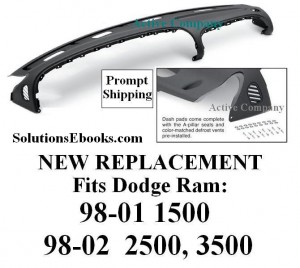 Click on any picture to enlarge.
See and buy Instrument bezel Replacement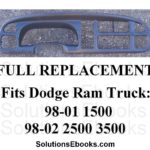 See and buy low cost Fiberglass Dashboard Dashpad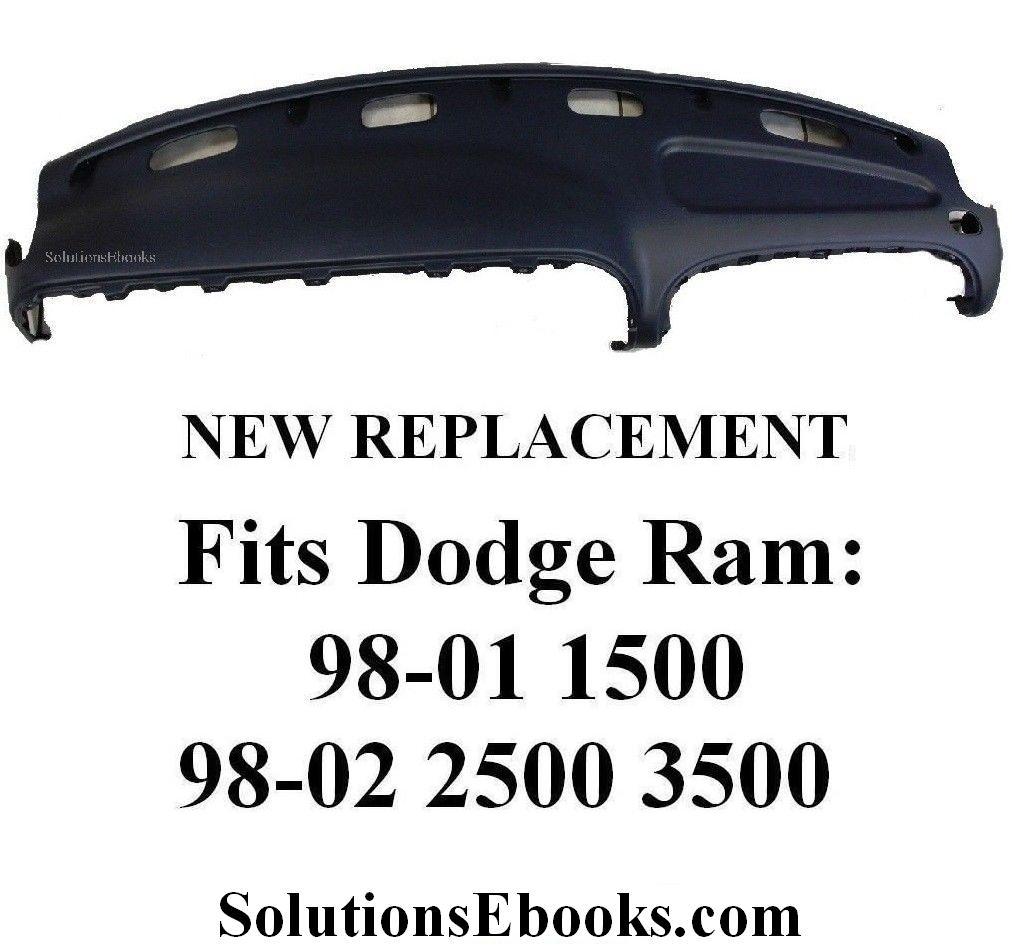 Replacement Dashboard Dashpad (Fits 98-01 Dodge Ram 1500 Truck, and 98-02 Dodge Ram 2500, 3500 Truck)

Brand New in Factory sealed package
Available in the original Dodge Ram colors, Agate (Dark Gray), Mist Gray, or Camel Tan.
$585 
$53.99 UPS Ground shipping

Please read all info on this page before buying.  Does not ship to USPS P.O. Boxes.
Click on the Add to Cart button just below each specific name of color to buy that specific color.  The Add To Cart button works with the latest versions of web browsers Mozilla Firefox and Internet Explorer.  If the Add To Cart button is not working for you, Contact (Click Here) and send your email address and which item(s) you want, and I will email you (usually within a day or faster) a Paypal invoice that you can pay securely on Paypal with a credit card or Paypal.
Accepted: Paypal, Credit cards.
Info about Paypal and how to call them is near bottom of this page.
---
Color:  Agate (Dark Gray) (dashboard at top left of this page is this color)

---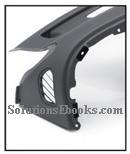 Color:  Gray (Mist Gray)

---
Color:  Saddle (Camel Tan)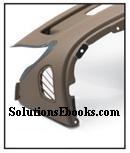 ---
Fits trucks and pickup trucks:
1998-2001 Dodge Ram 1500 
1998-2002 Dodge Ram 2500  
1998-2002 Dodge Ram 3500 
It also fits the trucks listed directly above that have Sport Trim Level.

It does not matter which type of engine you have, for example, a 1998 Dodge Ram 1500 pickup truck with a 3.9L (3.9 liter) engine or a 1998 Dodge Ram 1500 pickup truck with a 5.9L engine. It will fit both of those pickup trucks.
This is a Replacement Dashboard (for your dash), 

not a cover or cap

 that you attach with silicone adhesive onto your original dash.
The original Dashboard is removed, and Replacement Dashboard is installed.
Aftermarket Replacement Dashboard.
Improved heat-resistant thermoplastic compounds to resist shrinking and fading.
Paint is mixed with an ultraviolet inhibitor to help prevent damage from the exposure to sunlight.
Pre-installed A-pillar seals and color-matched defrost vents.
1 year warranty.
Dodge Ram dashboard top buying tip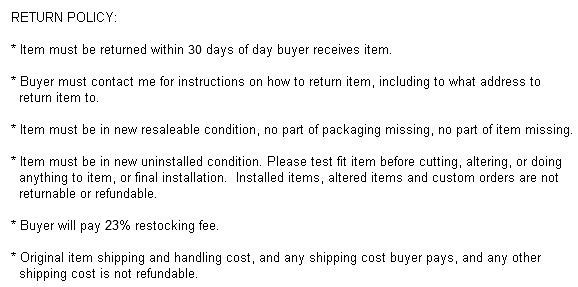 Item cannot be shipped to a USPS Post Office Box or a freight forwarder.
Usually ships from Central USA within about 2-4 business days. 
For Help Support with the Paypal "Add To Cart" payment buttons on this page, that are used to pay for an item, call Paypal at 1-888-221-1161, at the prompts, keep saying "agent" until you reach a live person.  About Paypal.  Paypal does not share your financial details with sellers, for example your credit card number or other credit card info, so you can shop with peace of mind.  In 2015, paypal processed 4 billion payments, and has 173 million active customer accounts.
Subscribe to Solutions for Dash free newsletter – Get updates; Get an email when Out-of-Stock items are back In-Stock; Get on-sale info.
* ALSO LOOKED FOR BY (you don't need to read this section) :
98 99 00 01 1998 1999 2000 2001 dodge ram 1500 pickup truck
98 99 00 01 02 1998 1999 2000 2001 2002 dodge ram 2500, 3500 pickup truck
chrysler mopar dealer manufacturer mfr mfr. part number  parts sku # sku# no. mpn # id i.d. part id Part number 5GK45RC8AC 5GK45VK9AB  5GK45LAZAB  5GK45LAZAC 1-5GK45RC8AC 1-5GK45VK9AB 1-5GK45LAZAB
part number  – agate
med dark dark medium gray grey
replacement dashboard top dashpad replacemant re placement replace replacing full total replacemint swap change take out original equipment dashbord taking entire remove whole fully complete mounts mount switch broken all entirely all of it plastic connect with connector connectors connecting hardware clips attachment attachments mounting clip attached by connecting very strong cracking missing cracked most of it many cracks will not crack won't not oem not mopar not chrysler totally better crumbling crumble crumbles than best piece pieces solve slide fits hug hugs over Dashpad dash pad top covering cap lifetime covering replacement replace dashtop board cover aftermarket quality after market long lasting screwmounts screwmount strong vent vents dashboard mount easy to install simple do it yourself yourselfer new moulded plastic molded drd8-1 plastik thin on surface on of dashcover dashcap cover dash-cover aftermarket after market accessory after-market repair fix it install repairing fixing broken cracked cracks falling apart interior inside interiors accessories buy purchase how to solution problem store laid
colors is for interior trim code C3 – " Cirrus " color K9 – " Suede " ( tan ) color AZ – " Agate " ( dark gray ) color