Replacement Instrument Bezels for Dodge Ram Pickup Trucks
Find a quality Replacement Instrument Cluster Bezel here to buy for your 1998-2001 Dodge Ram 1500 pickup truck, and 1998-2002 Dodge Ram 2500 and 3500 pickup truck.
( Dash Bezel radio dashboard instrument cluster gauges trim panel ac vents surround speedometer Replacement )
Fit:
1998 1999 2000 2001  Dodge Ram 1500
1998-2002  Dodge Ram 2500 
1998-2002  Dodge Ram 3500
The bezels are aftermarket, and fit great.  You can reuse your vents from your existing original bezel on this bezel.  If your original bezel is cracked, this is a great solution to fix it by replacing it at an affordable price, which is a lot lower than if you bought it at the Chrysler Dodge Ram dealership.  If you need the vents, this bezel is the bezel with the vents included.
Replacement Bezels for sale: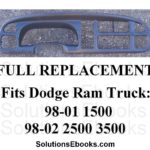 Buy 1998-2001 Dodge Ram 1500 Replacement Bezel – 2002 Ram 2500 3500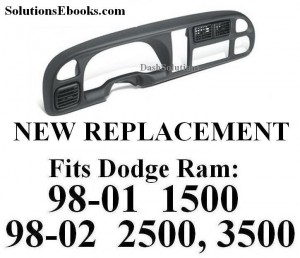 Buy 1998-2001 Dodge Ram 1500 Replacement Bezel – with vents – 2002 Ram 2500 3500
Also looked for by:
98 99 00 01 02 1999 2000 2001 dodge ram 2500 3500
98 99 00 01 dodge ram 1500
mopar oem manufacturer part number no. # 68042746AC 5EU11DX9AB mp-68042746AC mp-5EU11DX9AB
dash covering fits over board cover covering replacement replace after market long lasting board front replace covers dash-board quality dashboard
bazal bazil bezel bezil bezal bazel instrument gauge instruments gauges cluster console radio trim panel panels surround vent vents mopar heater ac a/c stereo speedo guage meters meter air conditioning grills grill clusters paneling
dash board instrument gauges bezel
truck pick up pick-up cummins cumins
dodgeram dodgetruck dogde doge ramtruck ramtrucks dodg dadge dodgeram doge rem
Subscribe to Solutions for Dash free newsletter – Get tips, updates, "on sale"/discounts info