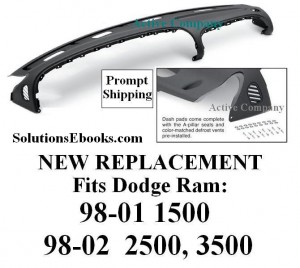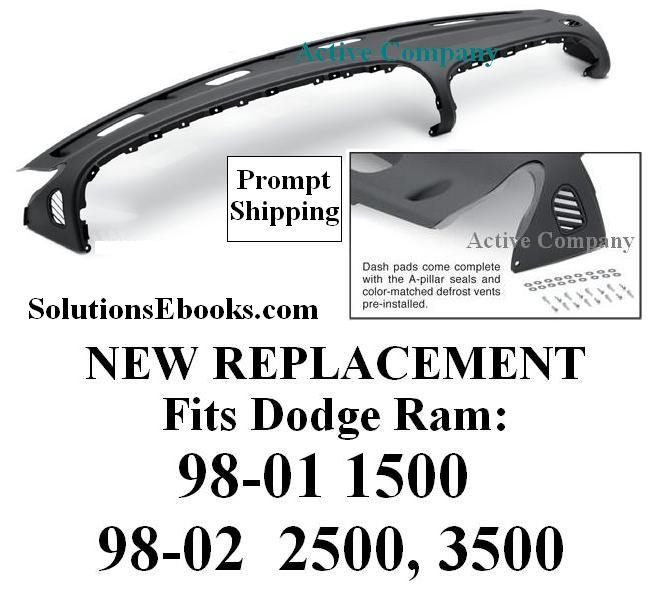 Buy 1998-2001 Dodge Ram 1500 aftermarket Replacement Dashboard – 1998-2002 Ram 2500 3500
The original OEM Dashboard for the 1994-2005 Dodge Ram pickup trucks and trucks, including the 98-01 Dodge Ram 1500 and 98-02 Dodge Ram 2500 3500′s, that was installed on these trucks in the factory, has been known to crack.
Getting the dashboard replaced with a quality aftermarket Dashboard will help you to avoid getting another Dashboard that could crack again. If you buy an original new Dashboard (for example at the Dodge dealer) made from the same material as your original Dashboard, or a used original Dashboard, OEM (Original Equipment Manufacturer), it can crack! Mopar brand parts are parts from Chrysler (Mopar is an organization in Chrysler group), and are OEM (Original Equipment Manufacturer) parts, and therefore if they are using the same material as in the original Dashboard, then their Dashboard can crack.
How to find the Interior Trim Code for your Dodge Ram pickup truck (to identify the color of your Dashboard Top Dashpad)
Look in the driver's front door jamb area. There should be a sticker there that has a bar code.
Under the bar code near the far right of the bar code, it should say TRM: and then followed by a combination of letters and numbers. An example is TRM: S5AZ .
In that example, S5AZ is the Trim Code. In this example, the color code is AZ, and is Agate (Dark Gray) color. The color samples I show have a color code on them, such as AZ for Agate color.
SolutionsEbooksDOTcom provides Dodge Ram dash solutions.
This should help you find your color to the best of my knowledge, but I don't guarantee this info about your color, and if you order and get the wrong color I won't be responsible for the mistake.
Subscribe to Solutions for Dash free newsletter – Get updates, on sale info